SAILOMAT self-steering history
All-mechanical servo-pendulum self-steering for all cruising and passage-making sailboats 24-50 feet LOA
Blue Water sailors all over the world seek the Freedom at Sea. When you are cruising or racing and need reliable assistance at the helm, a good all-mechanical Self-Steering system will keep you on course and give you the freedom to enjoy the open waters.
The comfort and survival for the crew when cruising or racing depend on the selection and quality of the yacht's equipment. Most yachtsmen agree that the single most important equipment for a successful and pleasant voyage is an all-mechanical windvane Self-Steering.
But you don't have to cross oceans to appreciate a good Self-Steering system. Also for coastal cruising, day-sailing, or whenever you are shorthanded, a Self-Steering system is of great value. It enables you to concentrate on navigation, keep better outlook, attend sails, cook, eat and rest. And it avoids crew fatigue and increases the safety.
In hard weather the Self-Steering system will give reliable assistance at the helm, so you can safely enjoy the comfort and protection of the sailboat's cabin.
For over three decades, SAILOMAT has built the very best Self-Steering devices. Over two thousand SAILOMATs have been built and steered all types of sailing yachts for thousands carefree miles around the world. The strong and reliable SAILOMATs continue to steer when other autopilots fail.
Universally acknowledged among world cruisers as the most advanced Self-Steering systems available - a SAILOMAT is a masterpiece of design and function. The very high strength, built-in simplicity, simple mounting, reliability and long life make SAILOMAT Self-Steering the distinguished leader in its field.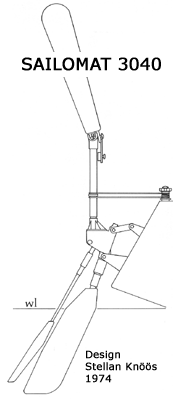 Since the beginning in 1974 when the first SAILOMAT was introduced, every effort has been made by the SAILOMAT design team to enhance capabilities and quality. That commitment has resulted in many unique design concepts and overall improvements.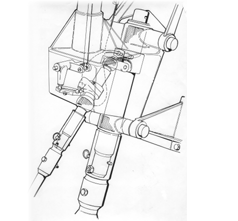 With the very first SAILOMAT (3040) self-steering an impressive circumnavigation record was broken, when Naomi James 1978 sailed single-handed round the globe via Cape Horn- first woman in the fastest time ever.
Further technology advancements were made with the subsequent systems SAILOMAT 500, SAILOMAT 536, SAILOMAT 600 and SAILOMAT 601.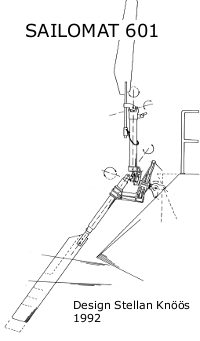 For further readings on Self-Steering we recommend the excellent recent book 'The Windvane Self-Steering Handbook' by Bill Morris, published 2004 by International Marine / McGraw-Hill. (Note: the all-new SAILOMAT 700-series system was introduced after the publication date of this book, and a description of the SAILOMAT 700 was therefore not included in this book. However, the previous model SAILOMAT 601 is given great and foremost attention.)
In early 2005 our design team has proudly introduced a new state-of-the-art Self-Steering system SAILOMAT 700-series, based on the servo-pendulum principle, incorporating new and superior design concepts and manufactured with new advanced metal-cutting techniques. From mid-2005 this all-new system is replacing the previous SAILOMAT 601 Self-Steering systems.
The current model, SAILOMAT 760, was introduced in 2008.
Copyright © 1985-2023 SAILOMAT USA/Dr. Stellan Knöös
All rights reserved. Patents. Trademark.