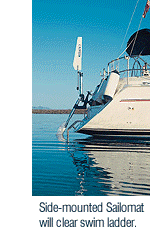 "THE NEW STANDARD OF EXCELLENCE IN SAILBOAT BLUE WATER SELF-STEERING".
Blue Water Sailors all over the world seek the freedom at sea. When you are cruising or racing and need reliable assistance at the helm, a good Self-Steering system will keep you on course and give you more freedom to enjoy the open blue waters.
The comfort and safety onboard depends on the correct selection and quality of the yacht's equipment. Most cruisers agree that the single most important gear for a successful voyage is the windvane Self-Steering system.
For a quarter century SAILOMAT has developed and built the very best Self-Steering vanes. These have steered all types of yachts for hundreds of thousands of carefree miles around the world.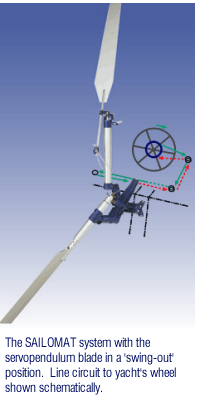 Innovative design and unique manufacturing quality, combined with high performance and durability have characterized each SAILOMAT generation, and earned SAILOMAT the name of being the most experienced and distinguished leader in its field.
The continued efforts by the SAILOMAT design and manufacturing team to enhance steering performance and offshore reliability have resulted in our latest system: SAILOMAT 601, in every vital aspect the superior performer in all wind and sea conditions.
SAILOMAT 601 is the new proven standard for offshore cruising and passagemaking, and universally acknowledged as the professional choice and the most advanced production steering system ever built.
The SAILOMAT 601 is built on the proven 'servo-pendulum' principle, and easily fitted to any type of sailboat 23'-65' LOA. It is built on patented unique SAILOMAT principles, proven by years of ocean testing. The design is characterized by unmatched simplicity, very high strength and yet low weight.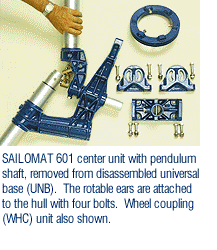 The SAILOMAT 601 uses a patented low-friction direct linkage and advanced bearing technology for the enhanced performance. The design permits exceptionally large side swing motion for the servo blade (140 deg to port /170 deg to starboard), a most important feature for the performance, safety and convenience. The lightweight SAILOMAT 601 main frame can be instantly removed from a compact Universal Base, attached to the yacht. Light alloys are used for superior high strength. Corrosion is minimized by using marine grade alloys, electric insulation of components, and extensive use of Helocoil thread inserts.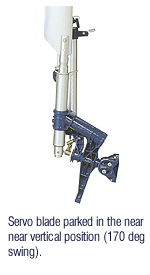 As all previous SAILOMAT systems, the SAILOMAT 601 is designed and built under the experienced leadership of Dr. Stellan Knöös, aerospace engineer and SAILOMAT company founder.
The SAILOMAT 601 components are manufactured and assembled in high-technology manufacturing facilities in Europe and USA. Factory-direct sales and professional assistance to our worldwide customers are performed by our Design and Sales Office in USA.