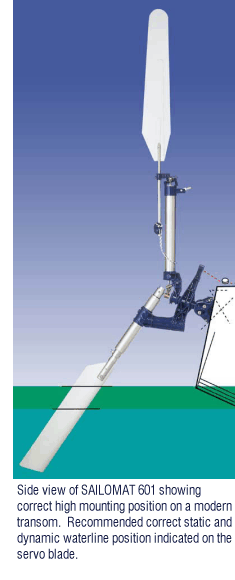 SUPERIOR STEERING PERFORMANCE
- unique mechanical design
- variable vane-to-oar ratio
- sensitive, all wind conditions
- all sea conditions
SIMPLE UNIVERSAL-BASE MOUNTING
- all transom geometries
- only four bolts to hull
- compact 'footprint'
SLANTED SHAFT AND
OAR BLADE
- perfect fit to modern
reverse transoms
- automatic 'pumping-off'
of sea weed
OFF-CENTER MOUNTING PERMITTED
- will clear swim ladder
- walk-through transom
- outside hung rudder
- double ender (canoe stern)
HIGHEST STRENGTH AND DURABILITY
- state-of-the-art design (patent)
- superior light-alloy materials
- shaft 500% stronger than competition
EXCEPTIONAL PENDULUM SIDE SWING
- out-of-water (140 deg/170 deg)
- overload safety
- convenient upright blade parking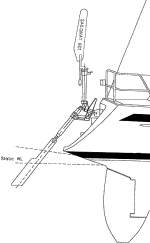 INSTANT REMOVAL FROM BASE
- unique design concept
- stowing convenience
BROAD MODEL PROGRAM
- 7 sizes available, 23'-65' LOA
- perfect fit to any yacht
EMERGENCY STEERING CAPABILITY
- permitted
- added rudder area: 'BEST'
ESTETHICAL APPEARANCE
- clean and compact base
TYPE:
- 'Servo-pendulum' all-mechanical system.
- Line circuit with blocks, connected to yacht's tiller or wheel.
- Dual-axis air vane sensor.
SIZES:
- Seven sizes for perfect matching to any yacht 23'-65' LOA.
STRENGTH & WEIGHT:
- Very high overall strength. Oversize shafts and bearings.
permitting use as emergency rudder.
- Very high strength/weight ratio. Weight: from 20.5 kg (46 lbs).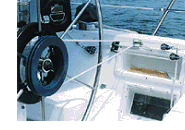 MOUNTING:
- Universal base (will fit any transom geometry). Compact 'footprint'.
- Simple 4 bolt attachment to hull (high position mounting).
- Off-center mounting permitted
(to clear swim ladder or 'walk-through' transom)
DESIGN:
- State-of-the-art system (patents, worldwide).
- Compact light-alloy design for superior strength-to-weight ratio.
- Pendulum swing range: 140 deg port / 170 deg starboard,
out of water.
- Swing-up blade for vertical parking.
- Six-position variable vane-to-oar ratio (for enhanced
light wind sensitivity).
- Simple and instant removal of equipment from Universal Base.
MATERIALS:
- Marine grade light-alloy main castings with Helicoil.
- Aluminum alloy extrusions (anodized), with high yield strength.
- Advanced composites. Bronze castings.
FASTENERS:
- Stainless steel 316. Helicoil thread inserts.
CORROSION RESISTANCE:
- Excellent resistance.
- Electrically insulated components, minimizing electrolysis.
- Helicoil inserts.
- Tefgel inhibitor compound . Non-welded design.
EMERGENCY RUDDER:
- Simple conversion to emergency rudder, using
optional blade extension component 'BEST'.